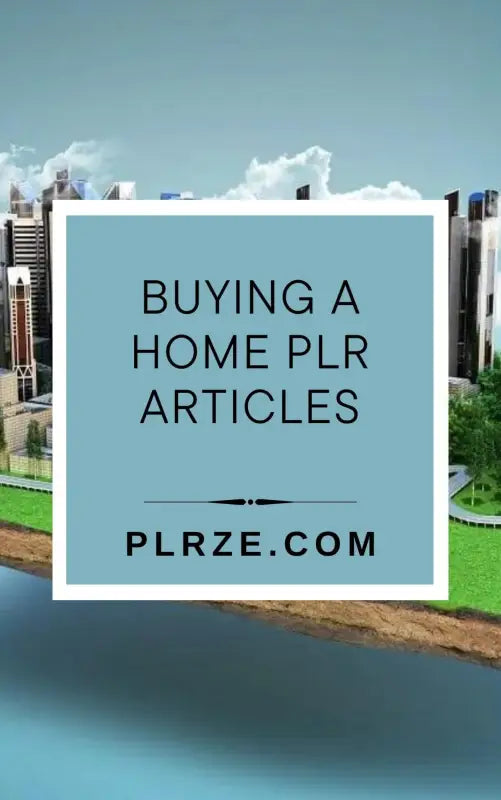 Buying A Home PLR Articles
---
Buying A Home PLR Articles is Fresh and New high quality content for the high profit real estate niche. You get Private Label Rights, Call it yours. Hot off the presses.
Buying A Home PLR Articles
25 high quality articles that are fresh off the presses. Average 500 words each. In both DOC and plain text formats.  They also include Private Label Rights so you can edit that all you want and even cal it your own content.
I am sure I don't have to tell you how large and profitable the real estate niche is. Here is your opportunity to grab your share.
Buying A Home PLR Articles Titles:
5 Mistakes First Time Home-Buyers Make
Attend Open Houses to Get a Feel for What You Want – and Don't Want
Buying a Home that Fits Your Lifestyle
Consider the Neighborhood
Determining the Must-Have Features of Your New Home
Don't Get Trapped by Real Estate Buzz Words
Educate Yourself to Make Smart Home-Buying Decisions
Get a House Inspection to Set Your Mind At Ease
How to Choose a Real Estate Agent
How to Win a Bidding War
Keep a Checklist During the Home-Buying Process
Know the Deal Breakers
Location, Location – and Getting the Best Deal
Making Your New House a Home
Red Flags to Look for When Home Searching
Rent or Buy? How to Know What's Best for You
Taking the Stress Out of Home-Buying
The Myth of "Love at First Sight" When Home Buying
The Rollercoaster Emotions of Buying a Home
The Search for a Home – Where Do You Begin?
To Buy or Not to Buy? The Home-Buying Final Decision
What Can Go Wrong? The Possibilities are Endless
What Is Your Definition of Home Sweet Home?
Working Through Second Thoughts and Sheer Panic
You've Found "The Home." Now What?
Buying A Home PLR Articles Samples:
People are in a home-buying frenzy now with home prices relatively low as are mortgage rates. Experts are predicting that more gains will be made within the housing market during the years ahead.
You've outgrown the house you're in and find out you qualify for a mortgage that will let you upsize. Or, your kids have flown the nest and you're ready to sell the family home and downsize – or, you may be a first time home-buyer and need help deciding what you want.
Finding the right home and one that truly fits your lifestyle is one of the most important decisions you'll make. It should fit with your lifestyle and have the right floor plan and style that you'll love for years to come.
Buying A Home PLR Articles Rights:
[YES] Can be edited completely and your name put on it
[YES] Can be used for your business – Personal PLR Only
[NO] Can be added to paid membership sites
[NO] Can sell Resale rights
[NO] Can sell Master Resale Rights
[NO] Can sell Private Label Rights
[NO] Can be given away
[NO] Can be added to free membership sites