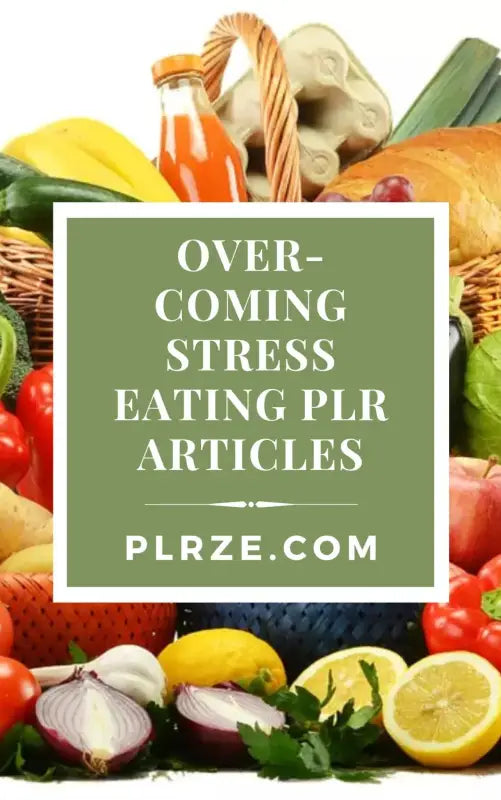 Overcoming Stress Eating PLR Articles
---
Overcoming Stress Eating PLR Articles with private label rights is a great set of articles that covers a very profitable topic. Edit, put your name on it and sell!
Overcoming Stress Eating PLR Articles
Stress is a silent cause for many diseases. It sets the stage by weakening your immune system, increasing your cortisol levels and also affects your appetite. If you're trying to lose weight, focusing on your diet and exercise is well and good, but you should never ignore your stress levels. These 5 articles cover a few different topics on emotional eating in a well-written and easy to understand way.
Overcoming Stress Eating PLR Articles Titles:

Manage your stress and You Will Manage Your Diet (549 words)
Use this Technique to Discover the Link between Your Stress and Food (634 words)
Eat These Foods to Reduce Stress (597 words)
Is Your Diet Stressing You Out? (709 words)
Food Swapping: Use this Method to Control Stress Eating (699 words)
Overcoming Stress Eating PLR Articles Samples:

You may have heard of 'fat burning foods' and foods that fight cancer, etc. However, most people are unaware that there are foods that help to fight and reduce your stress levels.
Journaling is one of the best habits anyone could have. It is a practice that most successful people use and not something that only high school girls use to detail the crushes.
Stress can be a vicious enemy when you're trying to lose weight and/or clean up your diet. On the one hand, you're doing your best to eat clean and do the right things.
Overcoming Stress Eating PLR Articles Rights:

[YES] Can be edited completely and your name put on it
[YES] Can be used for your business – Personal PLR Only
[NO] Can be added to paid membership sites
[NO] Can sell Resale rights
[NO] Can sell Master Resale Rights
[NO] Can sell Private Label Rights
[NO] Can be given away
[NO] Can be added to free membership sites