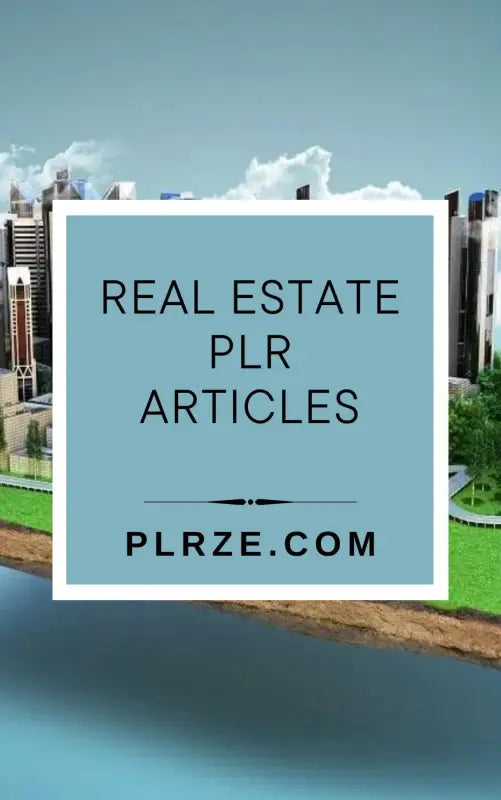 Real Estate PLR Articles
---
Real Estate PLR Articles in 35 package with Private Label Rights. Grab your share of a a highly profitable and popular niche. Copy and paste ready to use.
Real Estate PLR Articles
25 Articles under 500 words,with Private Label Rights.
Real Estate PLR Articles Titles including:
5 tricks to make it big with real estate investing
All about real estate agents
A good real estate broker
Arizona real estate: The buying motivation
Colorado real estate: does it rock?
Commercial real estate: The big profits
Florida real estate
Getting a real estate license
Investing in California real estate
Las Vegas real estate – What's up?
Orlando real estate – The land of Disney
Prudential real estate
Real estate appraisal – is that the real one?
Real estate investment is about finding good deals
Real Estate Investment Trust: Enabling you to be a part of the party
Real estate law: Not for you?
Real estate listings – Internet Vs newspaper
Real estate loan: Understanding the concept
Real estate management firms – making life easier
Real estate schools of thought
San Diego real estate
Starting Georgia real estate hunt with a real estate agent
Texas real estate
Finding Texas real estate on the internet
The real estate attorneys
Uncovering the real estate for sale
Real Estate PLR Articles Samples:
Real estate investing is one of the most attractive ways of making good money (that is if you do it correct). Moreover, real estate investing is also a lot of fun. A lot of people practice real estate investing as their core profession and, in fact, make a lot of money that way.
Real estate is a popular investment avenue. A lot of people go for real estate investing. Some people follow real estate as their prime job. So you have real estate brokers, real estate investors, real estate attorneys and others who thrive mainly on the real estate industry. However, there are others who don't follow real estate investing as a profession but still want to invest in real estate (as it is an attractive avenue for investment). For such people, getting a good real estate broker can make a big difference between a good deal and not-so-good one.
Whether you are looking to buy a home for living in or whether are looking to just invest in real estate, you will need to get hold of real estate listings as the first thing. Internet and newspapers are the most common ways of getting real estate listings.
Looking to invest in some real estate, maybe make a move, or maybe you're just interested in finding out more about real estate before you make a move.  These 25 articles are going to give you a head start on just about any real estate question you may have and in various parts of the country.  So if real estate is your calling, check out these informative 25 articles.
Real Estate PLR Articles Product Rights:
[YES] Can be given away
[YES] Can be packaged
[YES] Can be offered as a bonus
[YES] Can be edited completely and your name put on it
[YES] Can be added to paid membership sites
[YES] Can be offered through auction sites
[YES] Can sell Resale Rights to Real Estate PLR Articles
[YES] Can sell Master Resale Rights
[YES] Can sell Private Label Rights