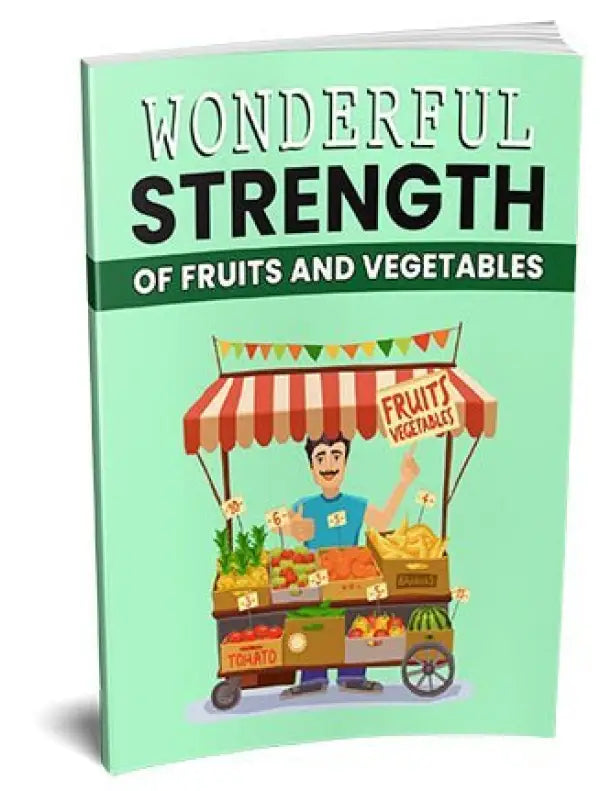 Strength of Fruit and Vegetables Ebook MRR
---
Strength of Fruit and Vegetables Ebook MRR with master resale rights is the ebook you need that covers the various ways fruits and veggies can help your health!
Strength of Fruit and Vegetables Ebook MRR
File Formats: PDF
Number of Pages: 41
Salespage: Not Included, squeeze instead
Download/Thank You Page: Not included
Included Graphics: Cover
Cover Graphics: PNG 3D and flat, logo
Extras: None.
Year Released/Circulated: 2021
Suggested Selling Price: $17
Strength of Fruit and Vegetables Ebook MRR Introduction:

So many of us wish we had more energy, better abs, and sharper focus. Likewise, we often find ourselves wishing that we had better skin or hair. We wish that we could sleep better at night, and wish that it was a little bit easier to wake up (those last two points are related, by the way!).
This has led to the emergence of numerous industries, all built around helping us to feel, look, and perform better. We spend huge amounts of cash on skincare products, on sleep supplements, and on gym memberships. We try all kinds of crazy things, whether that's lying on a bed of gentle spikes to improve sleep (yes, that's a real thing!), wearing blue-blocking shades all day, or wearing energy-healing crystals (which are about as effective as wishing really hard!).
We try these things because we're looking for answers, and we're desperate.
We're willing to try anything. And we hope, each time, that we're about to stumble upon the answer and unlock our full potential.
We hope that ONE of these things will provide the answer and help us feel GREAT as we know that we really can do. But very few of these strategies makes any noticeable difference.
The problem? We're overcomplicating matters. And this is largely due to the huge amount of marketing that gets thrown at us on a daily basis. In truth, improving the way you look and feel is very simple: it's about the basics!
Strength of Fruit and Vegetables Ebook MRR Contents:

Chapter 1: Why Vitamins and Minerals Are the Answer
Starting With Vegetables and Fruits is the Solution
Chapter 2: An Introduction to Vitamins
Fat Soluble Vitamins
Water Soluble Vitamins
Chapter 3: An Introduction to Minerals and Other Amazing Nutrients in Fruits and Vegetables
Other Essential Micronutrients
Chapter 4: Fruits and Vegetables for Athletic Performance
Top Fruits and Vegetables That Improve Athletic Performance
Beets
Potatoes
Spinach
Kale
Mushrooms
Carrots
Apples
Chapter 5: Amazing Superfood Fruits and Vegetables for Mood, Energy, Beauty, and More
Broccoli and Leafy Greens for Beauty and Pregnancy
Cayenne Pepper for Weight Loss, Testosterone, and More
Elderberry for Inflammation
Chapter 6: How Antioxidants Help You to Live Longer
Chapter 7: How to Use Fruits and Vegetables to Successfully Improve Your Health
How Many Fruits and Vegetables Do You Need Really?
The Dangers of Too Many Fruits and Vegetables
Chapter 8: Creating a Diet Rich in Fruits and Vegetables
The Strategy: The Aim is Variety
How To Increase The Variety of Fruits & Vegetables
Chapter 9: What About Multivitamin Supplements?
Chapter 10: Conclusion – Your Blueprint for Greater Health
Strength of Fruit and Vegetables Ebook MRR Rights:

[YES]Can be sold
[YES]Can be used for personal use
[YES]Can be packaged with other products
[YES]Can modify/change the sales letter
[YES]Can be added into paid membership websites
[YES]Can put your name on the sales letter
[YES]Can be offered as a bonus
[YES]Can be used to build a list
[YES]Can print/publish offline
[YES]Can convey and sell Personal Use Rights
[YES]Can convey and sell Resale Rights
[YES]Can convey and sell Master Resale Rights
[YES]Can be given away for free
[NO]Can modify/change the main product
[NO]Can convey and sell Private Label Rights